1-888-600-1614
License #CC2005568
46 UNION WAY
Vacaville, CA 95687
Mon - Fri 8:00 - 5:00
Sat & Sun CLOSED
Bay Area Regional Energy Network (BayREN) is a collaboration of the 9 counties that make up the San Francisco Bay Area. Administered by the Association of Bay Area Governments (ABAG), BayREN implements effective energy saving programs on a regional level and draws on the expertise, experience, and proven track record of Bay Area local governments to develop and administer successful climate, resource, and sustainability programs.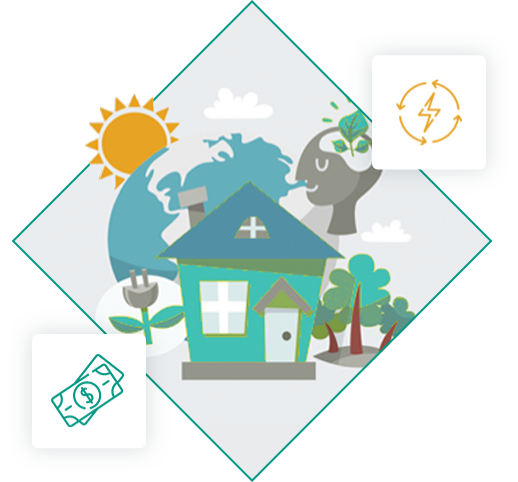 Current rebates of $5,000 or more available
Home Upgrade combines multiple improvements to increase your home's overall energy efficiency, saving you energy and money.
Eligible home improvements include:
Archon Energy Solutions has a large staff of specially trained and licensed technicians that can assist home owners on qualifying for BayREN Home+ rebates.
Every qualified residence has a maximum of $5000.00 in rebates allowed over an 8 year period. 
Combustion safety testing rebate of $150 will be added upon completion and only available once every 8 years.
Operations and Maintenance Measures

(Must be listed on the ENERGY STAR qualified product list for Smart Communicating Thermostat)

≤ 10% total leakage (Ducts or Furnace/Air Handler/FAU located in garage disqualify this measure)
Building Shell Measures

≥R-44 (includes attic air sealing) Not to exceed $1,000 per home

≥R-13 (2x4 framing) or 3 R-19 (2x6 framing) Not to exceed $1,000 per home
Heating and Cooling Measures

High efficiency central gas furnace

≥95% AFUE w/ Variable Speed Motor (must replace existing central gas furnace)

High efficiency central air conditioner

≥17 SEER (must replace existing central air conditioner)
High efficiency packaged central air conditioner t 16 SEER
(must replace entire load associated with existing central AC)

High efficiency heat pump

≥17 SEER / 9.4 HSPF (must replace entire load associated with existing central air conditioner or electric heating system or heat pump)
Water Heating Measures

High efficiency gas water heater

medium usage t 0.64 UEF, high usage t 0.68 UEF Instantaneous water heater t 0.87 UEF (must replace existing gas storage water heater)

Minimum UEF required ≥3.1 (must replace existing electric or heat pump water heater)
Bonus Rebates

Building Shell measures with a Heating and Cooling measure

≥30% total leakage reduction

Heating and/or cooling system compared to existing system

Combustion Appliance Safety (CAS) during test-out
Single family & 2-4 Unit Residences
Home Upgrade is an Energy Upgrade California® program specifically for Bay Area homeowners and implemented by local county governments. BayREN Home+ in the Bay Area is available to homeowners in the following nine counties.
BayREN Home+ helps you identify ways to strengthen your home's energy efficiency and has a network of specially trained participating contractors in the Bay Area.